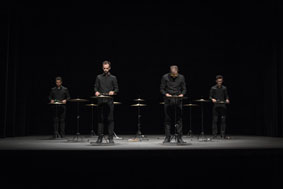 music for percussion © Raphaëlle Mueller
Ryoji Ikeda joined forces with the swiss percussion collective Eklekto to create a new musical project.

For this occasion, Ikeda is working with pure acoustic sounds. Instead of projections and electronic sounds, he is working with a group of 4 percussionists.

music for percussion consists of four distinct pieces performed one after the other.

Premiere: 10 September 2016, Festival La Bâtie, Genève (CH)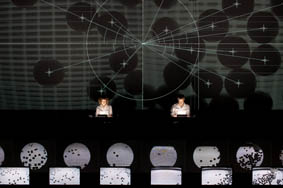 superposition © Kazuo Fukunaga
courtesy of Kyoto Experiment
superposition explores a new notion of information: quantum information.

After almost a decade of research on the discrete and the continuous, mathematical beauty and sublimation, Ryoji Ikeda has finally found a space where all mathematical concepts find an explanation in the notion of qubit, an infinite grey area between 0 and 1 in which probability and uncertainty coexist.

Preview: 5 August 2012, ZKM, Karlsruhe (DE).
World Première: 14 November 2012, Centre Pompidou / Festival d'Automne à Paris (FR).