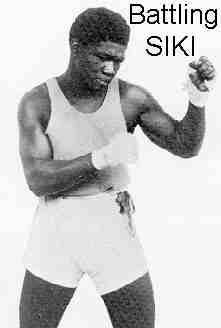 BOXING OPERA
A brutal and sung musical opus, combining boxing and opera, boxers and opera singers, violence and lyricism, rings and The Ring.

The 'Boxing-Opera' Battling Siki explores the early years of the 'noble art' - the lyrical years - using one of the highest Western art forms: Opera. More concretely, it recounts the tragic fate of Louis Siki Phall (the magnificent and crazy Senegalese murdered on the streets of New York in 1925). Phall was both agent and victim in a Western style of violence and explosive expressiveness, without ever gaining full acceptance. This narrative approach allows the Boxing-Opera to shed light on another significant aspect of the game: some of the most important issues of the 20th Century were fought out in the boxing ring: The division of the world into Blacks and Whites, North and South.

In theatrical terms, it also becomes a battle of forms for the Boxing-Opera. Given their patent incompatibility, the difficulty lies in establishing the relationship between the two ritualised art forms, without favouring one over the other. The meeting and clash of these two heavyweights of world culture certainly promises to be intense and unsettling.

It is the show of hopes, suffering and excesses, a mind-blowing ritual, whose brutality reflects the historical evolution of a huge minority of the population.



---
Battling Siki
boxing and opera entertainment
la fabriks & epidemic
music
KASPER T. TOEPLITZ
THIERRY ARREDONDO
Perfomed by
Ensemble Musiques Nouvelles & Art Zoyd
Creation, libretto and direction
JEAN MICHEL BRUYÈRE
assisted by
THIERRY ARREDONDO
dramaturgy
ISSA SAMB
research
MAMADOU GOO BÂ
boxing consultant
fight choreography
FREDDY SKOUMA
Production
LFK-lafabriks
&
Theater der Bundestadt Bonn
LFK-lafabriks
Art Zoyd
Ensemble Musiques Nouvelles
CICV Pierre Schaeffer
Epidemic
Le Théâtre du Merlan Scène Nationale de Marseille